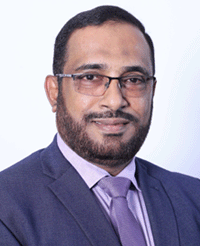 Director

Baraka Power Limited

Chairman

Baraka Patenga Power Limited

Chairman

Queens Healthcare Limited

Chairman & MD

Karnaphuli Power Limited

Chairman & MD

Baraka Shikalbaha Power Limited

Managing Director

Baraka Fashions Limited

Managing Director

Baraka Apparels Limited

Managing Director

Royal Homes Limited

Managing Director

Royal Educare Limited

Director & Managing Director

Baraka Securities Limited

Managing Director

Karnaphuli Harbour Limited

Member

NRC (Baraka Power Limited)

Member

NRC (Baraka Patenga Power Limited)

Executive Committee Member 2022-23

Bangladesh Association of Publicly Listed Companies
Mr. Gulam Rabbani Chowdhury
Director - Baraka Power Limited
Mr. Gulam Rabbani Chowdhury has a vast experience in machine manufacturing, real estate, power, education and readymade garments industry. His dynamism of entrepreneurship and management discipline played a key role in making a new startup "Baraka Group" to a huge success.
Mr. Rabbani, a very successful entrepreneur and negotiator, inspire NRB investors to invest in Bangladesh. He led a huge capital investment in an extremely complex operation-oriented business like power generation successfully. Presently he is leading Baraka Power Limited as its Director. With the efforts of Mr. Chowdhury, the success story of Baraka Power Limited set a new milestone for NRB investors, encouraging them to make further investment in the power sector. Accordingly, the second power project of Baraka Family named Baraka Patenga Power Limited was formed under his leadership. Inspired by the success of these two power plants, he is leading another two HFO fired power plants of 110MW and 105MW at Chattogram namely Karnaphuli Power Limited and Baraka Shikalbaha Power Limited respectively. Developing his entrepreneurial vision further afield, he ventured into the readymade garments industry and started Baraka Fashions Limited; a ten lines capacity woven garments located at Tongi, Gazipur.
Before starting Baraka Power Limited, Mr. Chowdhury with the support of a group of NRB investors successfully established an innovative and unique large-scale townscape vision by the name of "Royal City" in Sylhet, on 2006; which is a project of Royal Homes Limited. It has made a significant impact in the future of Sylhet as a fast-developing city, providing well planned residential and commercial facilities.
During his career, Mr. Chowdhury identified the lack of high international standard educational facilities in Sylhet. Along with a consortium of NRB investors, he has been a key figure in establishing a leading educational organization by the name of Royal Educare Limited (REL). REL currently comprises of educational facilities from Eurokids Kindergarten up to and including primary and secondary schooling in RISE (Royal Institute of Smart Education). RISE school has incorporated the world respected and renowned Cambridge Curriculum. The Cambridge body has approved RISE as one of the best technology based premium international schools in the country, located in the heart of Sylhet.
Mr. Chowdhury started his career at a very early age during his student life. In 1984 he joined an organization named New Engineering Works Limited. As a part of his work activities there, he learned about tea state machine manufacturing process and earned knowledge about practical uses of metallurgical and mechanical engineering. There he got ample opportunity to work very closely with some of the world-renowned natural gas exploration companies. During these times he realized the vast potentiality of entering into heavy industrial machineries based activities in Bangladesh. As a derive to use his practical knowledge and experience in the machine tools industries more effectively and efficiently, Mr. Chowdhury started his business career as Founder Managing Director by establishing Alim Industries Ltd. (An agricultural machinery manufacturing company) in the early 1990's. His enthusiasm, hard work, dedication, dynamism, foresight and skilled leadership took the company into one of the top-rated companies in the Agro Machinery Manufacturing sector. As a result, the company achieved a Presidential Award by innovating modernized agro based machine tools in the Bengali year 1395.
Mr. Chowdhury is also actively involved with some professional organizations where he significantly contributes to achieve the respective organizations' goals. At present he is an Executive Member of Bangladesh Association of Publicly Listed Companies (BAPLC). He is a former Vice President of Bangladesh Independent Power Producers' Association (BIPPA).
Mr. Chowdhury earned his bachelor degree in science under the Chittagong University. He attended many overseas trainings; specializing in metallurgy & manufacturing process, gaining a deep understanding and knowledge of industrial manufacturing and development. He has attended Business Leadership Forum on Smart Energy in Italy. He has visited many countries and attended seminars, international conferences and exhibitions such as in Australia, Canada, China, Denmark, France, Germany, India, Italy, Malaysia, Maldives, Morocco, Singapore, Thailand, Turkey, UAE, UK and USA. As a result of the numerous business successes across a variety of sectors, Mr. Chowdhury has received many accolades and corporate awards.