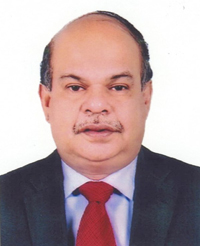 Mr. Khaled Mahmood
Independent Director
Engineer Khaled Mahmood, the former Chairman of Bangladesh Power Development Board (BPDB) was born in Mymensingh on 23rd December 1958. He took over the charge as chairman of BPDB on 17 August 2016. He is the 34th Chairman of BPDB. Before joining as Chairman Mr. Khaled was the Member (Generation) of BPDB.
Engineer Khaled Mahmood has more than 38 years' of work experience in power sector of Bangladesh on policy formulation, tariff fixation, project identification, project financing, project document preparation, bid evaluation, contract negotiation, project implementation, project monitoring, operation & maintenance of power plant/substation. He obtained B.Sc. Engineering Degree from the Bangladesh University of Engineering and Technology (BUET) in Electrical & Electronics Engineering (EEE) in1981.
He joined the Directorate of Programme of BPDB as an Assistant Engineer in 1981. In his long career, Engineer Khaled Mahmood discharged his duties in various positions in BPDB. He worked as Sub-divisional Engineer in Design & Inspection-1, Deputy Director (XEN) in Programme, Design & Inspection-1, Assistant Chief Engineer in the office of the Chief Engineer Generation, Director in Design & Inspection-1, Chief Engineer Generation etc. In his illustrious career Mr. Khaled discharged his duties as an expert specially in International Bid Document Preparation, Design & Drawing Preparation and Approval, International Negotiation of various power sector activities.
He obtained foreign training on design, manufacturing, operation and maintenance of power transformer, control and relay panel, GIS & 132KV SF6 GCB, training on power measuring & testing equipment. He also obtained foreign and local training on administration, HRD, organization & method and various technical subjects. He is a Life Fellow (F-3726) of Institution of Engineers Bangladesh.
Mr. Khaled Mahmood visited India, China, South Korea, Japan, France, USA, Czech Republic, Italy, Australia, Germany, Turkey, Spain, Thailand and Singapore for training & professional purposes. Mr. Mahmood joined the Board of Directors of Baraka Power Limited as an Independent Director on 18 December 2021.