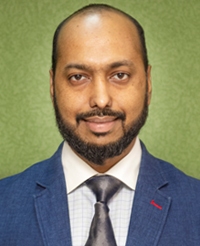 Director & MD

Baraka Power Limited

Director

Baraka Apparels Limited

Director

Baraka Patenga Power Limited

Director

Karnaphuli Power Limited

Director

Baraka Shikalbaha Power Limited

Director

Baraka Fashions Limited

Director

Royal Homes Limited

Director

Royal Educare Limited

Director

Baraka Securities Limited

Director

Karnaphuli Harbour Limited

Director

Queens Healthcare Limited

Member

Audit Committee (Baraka Patenga Power Limited)

Member

NRC (Baraka Patenga Power Limited)
Md. Fahim Ahmed Chowdhury
Director Nominated by Baraka Apparels Limited & Managing Director
Mr. Fahim Ahmed Chowdhury was appointed as the Managing Director of Baraka Power Limited on 25 September 2018. Before taking the responsibility of the Managing Director, he was the Deputy Managing Director of the Company.
Fahim A Chowdhury is a member of a reputed business family. He is a person with strong vision and the confidence to take calculated risks required in business. After completion of his graduation he began his career at Birmingham airport, GAP flagship & TFL in order to gain experience in customer service. He then started his own business in different sectors such as a fast food takeaway restaurant, money transfer & travel agent and real estate business etc. in London and in all cases established a strong reputation for his capability and integrity. He completed MBA in Human Resource Management (HRM) and also achieved a BETEC qualification in customer service from the City Council of London which established a vast knowledge in building community relationships as well as increased his managerial skills. In the spirit of contributing to the development of the motherland he moved to Bangladesh in 2007 and joined as a Project Director to Baraka Power and subsequently took the responsibility of Deputy Managing Director, Head of Finance and finally as Managing Director. He is one of the founders of an international standard hospital project in Sylhet called "Queens Hospitals Ltd." and renowned international schools RISE & Eurokids.
Fahim A Chowdhury is also involved in many charitable organizations. He is the president of the executive committee of Baraka Arabic Islamic Centre, Past President of the Rotary club of Sylhet Sunshine, President of "Nirjar Shahitta Shongcriti Crira Shongtha". He is also a life member of Baraka Foundation & Vide President of Sylhet Ideal Society.