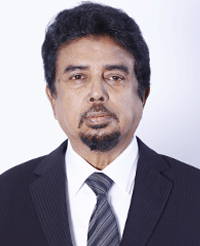 Vice Chairman

Baraka Power Limited

Director & CEO

Syltop Associate (Pvt.) Limited
Engr. Md. Ahsanul Kabir
Vice Chairman - Baraka Power Limited
Engr. Md. Ahsanul Kabir has a very wide range of knowledge on electro mechanical technology. Since his student life he was very much enthusiastic about science and technology. Due to his keen interest, he attended every Gov. Science fair of his vicinity during student life and was even awarded for his innovative ideas in National Science Fairs at that time.
After joining as a vice chairman of Baraka Power he worked on various issues that include problems of switch yard, like blasting of Lighting arrester which for sure is a costly part and could've been risky for the plant. Being able to solve tons of problems within the company; helped BPL to save a big portion of its valuable resources. He also worked on insufficient air flow in intake air filter room which helps in decreasing air temperature of engine room.
The failure of grounded wire mash which causes disconnection of three engines from ground were solved by him which made the engines secure for use. He is also working for damp radiator problem of BPL plant for a long time and finally all the fans are in better condition than before; ensuring that the project is running well. All the fans (247 nos of radiator fan are there in BPL) are working satisfactorily. Due to his unprecedented technical problem-solving ability the Company could reduce its expenses increasing the annual profit.
At his early age he was awarded in National Science Fair held at Dhaka. Also, he was a B grade Hawaiian guitar radio artist in his early life. He innovated different technical knowhow in the civil engineering construction work. Thriving every step, his continuous success in business is remarkably phenomenal.
On the other hand, he has vast experience of 33 years in civil Engineering technology and whole civil construction of Baraka Power Limited (Fenchugonj 51 MW) is completed under his technical assistance including additional drawing and design. He is the CEO and director of Syltop Associate Pvt. Ltd., a leading property developer in Dhaka and Sylhet. He is also the Chief Engineer of Architects and Builders. A company led and run by him.
High hopes, tough goals, emerging vision and a will to change the world has been the most immense driver of his continuous success.