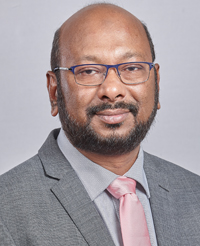 Chairman

Baraka Power Limited

Chairman

Royal Homes Limited

Chairman

Royal Educare Limited

Chairman

Baraka Apparels Limited

Chairman

Baraka Fashions Limited

Director

Baraka Patenga Power Limited

Director

Karnaphuli Power Limited

Director

Baraka Shikalbaha Power Limited

Member

NRC (Baraka Power Limited)
MR. FAISAL AHMED CHOWDHURY
Chairman - Baraka Power Limited
Mr. Faisal Ahmed Chowdhury is a visionary business leader and possessing over twenty nine years of highly successful leadership experience. Along with NRBs and local entrepreneurs, Mr. Faisal Chowdhury established Baraka Power Limited in 2007. Then he established Baraka Patenga Power Limited, Karnaphuli Power Limited and Baraka Shikalbaha Power Limited in Chattogram. Baraka Patenga Power Limited is the first power plant to be funded by the World Bank foreign currency loan under IPFF facility.
After completing his graduation, during the 1990's he relocated to the UK and started his own business founding Apex Printing and Publications Ltd. and then went on to establish Imprint Trading Ltd. He successfully started an internationally recognized real estate company in Bangladesh named Royal City (300 acres), situated at the gateway of Sylhet. He established an international standard educational organization, by the name of Royal Educare Limited (REL) in Bangladesh. REL includes Eurokids Kindergarten and Royal Institute of Smart Education (RISE) primary & secondary school. RISE School incorporates the world renowned Cambridge University Curriculum.
Mr. Faisal Chowdhury is also involved in several community and social interest activities and organizations. He is an Elected Executive Committee Member of Foreign Investors Chamber of Commerce &Industry (FICCI) for the year 2019-2021, Executive Member of the Bangladesh Red Crescent Society, Sylhet Unit and Mujib-Jahan Blood Bank and President of Sylhet Zimkhana Cricket Club. He is the publisher of The Daily Sylhet Mirror, a renowned newspaper of Sylhet. Mr. Faisal Ahmed Chowdhury is a widely travelled personality having a good understanding of the diversity of culture. He regularly attends business seminars and international exhibitions throughout the world and has built high level international networks to take Bangladeshi businesses into global level.