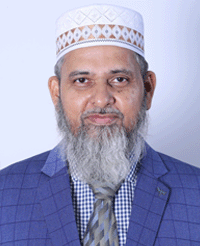 Independent Director

Baraka Power Limited

Independent Director

Baraka Fashions Limited
Dr. Md. Zakir Hossain
Independent Director - Baraka Power Limited
Professor Dr. Md. Zakir Hossain was made as an Independent Director of the Board on October 26, 2017. Dr. Hossain has taught in tertiary level education and done a substantial amount of research works in past 30 thirty years. Currently, he is a Professor (Grade-I) in the Department of Statistics, Shahjalal University of Science & Technology (SUST), Sylhet, Bangladesh. He obtained PhD in Statistics (in the area of Demography) from Banaras Hindu University, India and did his MPhil in Statistics (in the area of Bio-statistics) from Rajshahi University, Bangladesh. Dr. Hossain has 3 books under his authorship and published a staggering number of 52 research articles in reputed journals at home and abroad. In line of presentation, Dr. Hossain has offered 44 scientific papers in different national and international conferences.
At Shahjalal University of Science & Technology, Professor Hossain has carried out responsibilities as the Head, Department of Statistics; Dean, School of Physical Sciences; Dean, School of Agricultural and Mineral Sciences; Director, SUST Research Centre while doing the teaching and research all along.
Dr. Hossain has designed and implemented a number of study projects on various issues in micro and macro levels sponsored by several organizations including IFC, FAO, UNICEF, DANIDA, Save the Children, University Grants Commission, Ministry of Education (GARE), and Social Science Research Council and Chittagong Hill Tracts Development Board. In addition, he has provided consultancy to various issues in different organizations and projects such as Food Security for Vulnerable Group Development (FSVGD) Project, MNH-FP Services (Mamota Project), UNICEF-BBS Multiple Indicator Cluster Surveys (MICS) and Patuakhali Barguna Aquaculture Extension Project (PBAEP). Professor Hossain's areas of research include impact studies on development and demographic issues. He has completed a number of research projects related to national planning and policies.
Professor Hossain is a member of various professional organizations namely Bangladesh Statistical Association (BSA), International Union for the Scientific Study of Population (IUSSP), Indian Association for the Study of Population (IASP), Islamic Society of Statistical Sciences (ISOSS), Bangladesh Association for the Advancement of Science (BAAS), and Bangladesh Association of Scientists and Scientific Professionals (BASSP).